ViewSonic to launch V55 phone with Iris Scanner at CES 2015
The past year saw quite a few smartphone companies embrace the fingerprint scanner, and it is only natural they take things a step forward. Leading the line is ViewSonic which is set to unveil a smartphone featuring an iris scanner, GizmoChina reports. The Iris scanning technology was rumored to be launched in smartphones in 2014, but it failed to. Now, it appears like we will be getting to see this feature in a smartphone that will be launched at the CES 2015 next week. ViewSonic is believed to launch a smartphone called ViewSonic V55 with the iris scanning and recognition technology.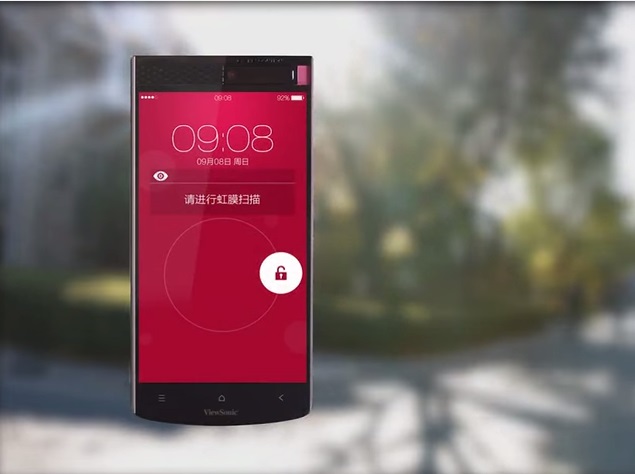 Viewsonic's V55 was originally slated for 2014 but is now pencilled in for early 2015. It is speculated that the device will flaunt a 5.5 inch FHD 1080p IPS display and employ a 64 bit Qualcomm Snapdragon 410 clocked at 1.4 GHz teamed up with 2 GB of RAM. It is claimed that it will pack 16 GB or 32 GB of internal storage capacity. The ViewSonic offering is said to boast of a 13 MP primary camera and arrive with connectivity features such as 4G LTE.
The Iris recognition technology will scan the user's unique random eye patterns for biometric identification. This iris scanner is likely to be included at the top right corner of the smartphone and it will be covered with a small piece as well. Users will have to make use of the feature by sliding this covering piece on the scanner. The Iris technology will allow the user whose iris patterns are recorded to unlock and access the contents stored on the smartphone, thereby preventing it from unauthorized access. Just as with fingerprints, once the scanner has mapped the iris, only the owner can unlock the device. Unlike fingerprints however, it is virtually impossible to spoof the pattern of an iris. The V55 has some pretty thin looking bezels on the sides, with a notable chin and forehead housing the iris scanner and what appears to be a good-sized speaker and earpiece.
Viewsonic is by no means a big player in the smartphone field – its last effort was in 2012 – but this would certainly make the major firms sit up and take note. Information about when or where the V55 will launch, and for how much, is not available.  Its insides do not scream flagship price, but other flagships are not equipped to scan an iris either.  That said, the V55 will probably have a competitive price point.
Do share with us your views of an iris scanner as a way to unlock your device and handle other sensitive features through comments below.